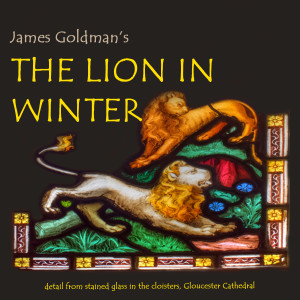 Rococo Players' last production was James Goldman's classic historical romance The Lion in Winter, performed in the magnificent surroundings of the Chapter House in Gloucester Cathedral, and then at atmospheric Postlip Hall, set in the hills above Winchcombe.
The Lion in Winter is a modern day classic – the story of the Plantagenet royal family who are locked in a free for all of competing ambitions to inherit a kingdom.
The queen, and wealthiest woman in the world, Eleanor of Aquitaine, has been mewed up in prison since raising an army, together with her sons, against her husband King Henry II. She has now been let out, and brought to the court at Chinon for the holiday. The play centres on the inner conflicts of the royal family as they fight for the kingdom and for the hand of the King's beautiful, young lover during the Christmas of 1183. Powerfully depicting the domestic and dynastic ambitions that threaten to drive the family apart, the play attempts to identify the ties that will ultimately keep it together.
This witty play presents jealousy, passion and politics and crackles with the sexual tension that lies behind a great love story; Henry and his beautiful queen, Eleanor. He can't live with her, but he can't reign without her.. Both of them still very much in love, but neither will admit it!
As Eleanor says, "every family has its ups and downs", and this royal family is no exception.
Performances at Gloucester Cathedral were on 18th – 21st January 2017 at 7.30pm.
Performances at Postlip Hall were on 27th and 28th January 2017 at 7.30pm.