The Rococo Players are excited to announce that, following a successful week in 2014, and by popular demand, we shall be re-presenting Howard Brenton's smash hit play, Anne Boleyn at Cheltenham's intimate Playhouse Theatre in March 2014.
What did our audience think?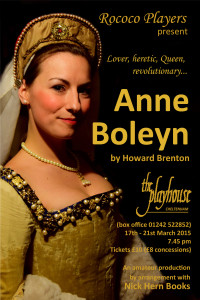 'Well done indeed!!! Congratulations on a first class production'.

 

'Nice to know Rococo can still turn it on!!'

 

'Congratulations! Three friends and I saw "Anne Boleyn" last night and really enjoyed the production'

 

'A very good show, and the music group were the icing on a very good cake'.

 

'A great play to watch- and I feel educated as well! Result!'
A celebration of a great English heroine, Anne Boleyn dramatises the life and legacy of Henry VIII's notorious second wife, who helped change the course of the nation's history.
Traditionally seen as either the pawn of an ambitious family manoeuvered into the King's bed or as a predator manipulating her way to power, Anne – and her ghost – are seen in a very different light in Howard Brenton's epic play.
Rummaging through the dead Queen's possessions upon coming to the throne in 1603, King James I finds alarming evidence that Anne was a religious conspirator, in love with Henry VIII but also with the most dangerous ideas pf her day. She comes alive for him, a brilliant but reckless young woman confident in her sexuality, whose marriage and death transformed England forever.
Commissioned specially for The Globe, Anne Boleyn premiered in an acclaimed production in 2010 and returned in 2011.
"Brenton's narrative is historically illuminating as well as imaginatively free-wheeling" Independent on Sunday

"Rich, sprightly and unfailingly vivid" Time Out

"Rollicking good drama…big, bold and generous" Guardian
The Rococo Players Production of Anne Boleyn runs at the Playhouse Theatre, Cheltenham from Tuesday 17th to Saturday 21st March, 2015.
Playhouse Theatre, 47-53 Bath Road, Cheltenham GL53 7HG
Call the box office on 01242 522852