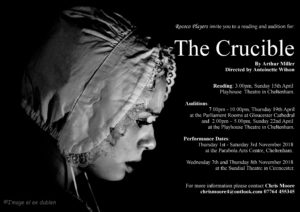 Rococo Players are pleased to announce that our 2018 production will be Arthur Miller's The Crucible, which has been described as a classic of the modern stage and one of the greatest American plays of all time.
Set during the time of the Salem witchcraft trials in late 17th century Massachusetts, The Crucible with its compelling indictment of bigotry, repression and religious fundamentalism has lost none of its relevance in the 21st century.
We expect to announce the cast list on Monday, 7th of May 2018.