The Rococo Players
A brief history
Formed in 2003, The Rococo Players originally performed outdoor productions of Shakespeare's plays each summer at the Rococo Gardens in Painswick from where the society gets its name.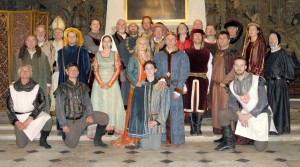 In 2007 an invitation was received to perform Marlowe's "Edward II" at Berkeley Castle, an event which was to dramatically change the future direction of the Players. Performing such a play in the magnificent setting of Berkeley Castle, where some of the events of the play took place, was a remarkable and deeply rewarding experience for everyone involved. Over the next three years the Players went on to perform Edward II at Warwick Castle, Gloucester Cathedral, Oriel College Oxford and once again at Berkeley Castle, and they were subsequently able to make a significant donation from ticket receipts to the fund for the restoration of Edward's magnificent tomb in the Cathedral.
The Players continued to mount open air summer productions, "Richard III" in 2010, "The Rivals" in 2011, both at The Rococo Gardens, and "The Importance of Being Earnest" at Blackfriars Priory and Hawkwood College near Stroud in 2015.
The Players' interest in historical plays has not diminished and since 2010 the repertoire has included a number of historical plays performed in exciting venues. Productions have included Schiller's extraordinary play "Mary Stuart" at Blackfriars Priory, a tour of Howard Brenton's gripping and tragic "Anne Boleyn" James Goldman's "The Lion in Winter" and productions of "She Stoops to Conquer" by Oliver Goldsmith and "The Crucible" by Arthur Miller. Our most recent venture was a return to Shakespeare with a production of "Twelfth Night", performed at St Mary de Crypt , Gloucester and Chapel Arts in Cheltenham. Our upcoming production for 2023 will be Neil Bartlett's adaptation of the class Dickens' novel, "Great Expectations".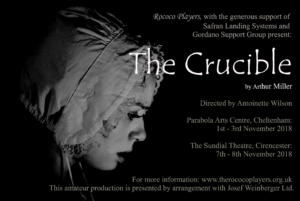 The Rococo Players have gone from strength to strength over the years and have built an enviable reputation for mounting quality productions in engaging locations. Anyone interested in becoming a member should contact our Secretary,                                                                        Barry Page at pagebarry@hotmail.com